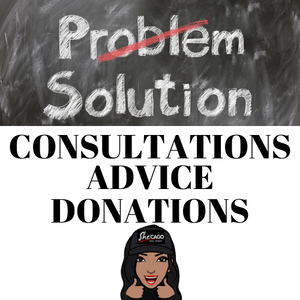 THIS LINK WILL ALLOW YOU TO CHOOSE A TIME FOR A PERSONALIZED CONSULTATION WITH SHECAGO! A 30+ YEAR VETERAN, CELEBRITY NAIL TECHNICIAN AND MAKEUP ARTIST. 
A LINK WILL BE SENT TO YOU TO BOOK A TIME!
PLEASE BE SURE TO INCLUDE A VALID EMAIL AND PHONE NUMBER. THIS IS WHERE THE BOOKING LINK WILL BE SENT. 
CONSULTATIONS TYPICALLY TAKE PLACE ON SUNDAY-WEDNESDAY
9AM CST-9PM CST
DO NOT INCLUDE YOUR QUESTION. PLEASE MAKE NOTES ON WHAT YOU WOULD LIKE CONSULTATION ON......
CALLS NOT ANSWERED AFTER 2 ATTEMPTED TRIES WILL BE FORFEITED. NO EXCEPTIONS! 
YOU MAY ALSO HIT "DONATION" IF YOU SIMPLY LIKE THE CONTENT I PROVIDE AS IT HELPS TO CREATE MORE CONTENT AND HELP THOSE WHO HELP THE BRAND!