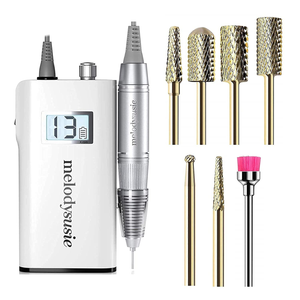 High Speed up to 30000RPM: This professional nail drill is equipped with high-quality bearing, which enables it work smoothly at a high and adjustable speed (0-30000 RPM) by rotating the speed control knob easily. It is an ideal file for both professional technicians in salon and newbies who start their journey to nail beauty at home.
Top Quality Torque: The efile comes with superior torque to avoid it from stopping occasionally when applying appropriate pressure. Awesome for nail buffing, filing the shape of various nails, and smoothing calluses or hardened skin on your hands and feet.
Rechargeable and Cordless: With a large battery capacity(2000mA), you can use this nail drill at anywhere anytime. Being fully charged for about 2-2.5 hours, the electric nail file will work up to 10 hours. The smart LCD screen will display the precious RPM and electricity. A Belt clip of the body case allows you to hang it on your belt on the waist and it is compact enough(6.08*2.94*0.98) to pack into your traveling bag or case.
Premium Tungsten Carbide Nail Drill Bits: Comes with 2pcs fine-grit bits, 3pcs medium-grit bits and 1pcs coarse-grit bits, all of them are made of optimum strength tungsten carbide material, which is sturdy sharpen enough to remove polish acrylic gel nails whatever you want. High-quality material and rigorous test design, it creates less dust with little friction and heat, protecting the skin from overheating harm. Durable and high-value nail art tools for your choice!
Professional Nail Drill Bits Set: With every size nail drill bits you need in one set, it does great jobs for any professional manicurist or beginner, cutting your time in a half. Fast remove or sharpen the acrylic gel nails or dip powder, easily clean the cuticles and sidewall.